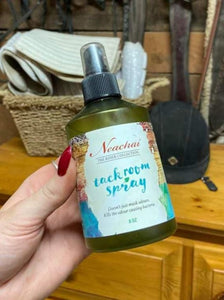 Neachai
Neachai Tack Room Spray
Regular price
$14.00
$12.00
Neachai Tack Room Spray
Our new tack room spray is a perfect addition to your barn tack room, tack trunk, trailer tack room, barn bathroom, viewing room or lounge.
With a delicious
green apple scent
this antibacterial spray doesn't just mask odors but kills the odor causing bacteria, so your room stays smelling fresh for longer. Use Neachai Tack Room Spray and you will have no more musky tack rooms.
Green Apple Scent

Antibacterial Spray

Great for tack room, tack trunk, lounge, barn bathroom and more!
The Neachai Tack Room Spray is evocative, to say the least, but that's why you're drawn to it in the first place.

Inventory Last Updated: Sep 27, 2023
Horze Size Chart:
QHP Size Chart:
note - we have our clothes labelled in FR
HKM: 
Women's size chart.
Men's size chart. 
---
Share this Product
---
More from this collection