• Mari Pikkov • EFO • equestrian • Equestrian Fashion Outfitters • Fashion • Month • of • Rider • Rider of the Month • ROM • Summer • the • United States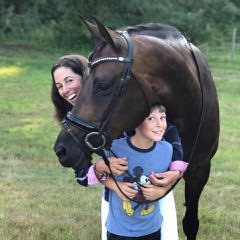 In 2019, we were lucky enough to cross paths with Tracey Olsen at a dressage show in the United States. From the minute we met, we knew that Tracey was someone who we wanted to showcase as one of our EFO Riders of the Month. 
Tracey Olsen was born and raised on Martha's Vineyard, where she owns and operates Woodbe Farm. Diving into the equestrian lifestyle at the age of five on the dirt roads of Chappaquiddick. Tracey has dedicated her life to training, riding and showing horses.