• EFO Sharon • Petrie Boot Sale • Sale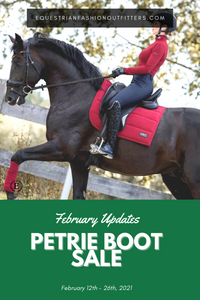 This February 12th - 26th Equestrian Fashion Outfitters will be running a Petrie Promo Sale! That means if you haven't already designed your dream boots or have been waiting to update your riding boots the time has come! You've got a two weeks to take advantage of these savings and get brand new Petrie Riding Boots on discount!
---
Every new pair of boots bought in February will get:
- $159 OFF (Free custom leg fee or semi-custom $159 off)
- FREE SPUR STRAPS ($29)
- 20% OFF All Petrie Boot Care Products
---
Head over to equestrianfashionoutfitters.com and start designing your dream boots! We are also running personal ZOOM fittings with Sarah while we are still in lockdown!